The kids talk to each other through Andrew's door before they go to sleep. It's really sweet. Tonight they were singing a song together through his door. Abigail will also slide books under his door for him:) They love each other, so cute.
The whole time Abby was in ballet today , Andrew said "I want Abby, I want Abby"
Here they are in their "boat" tonight.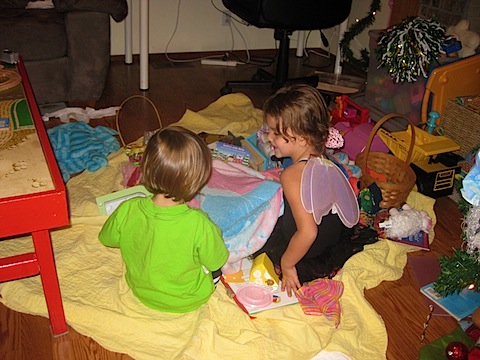 me…
I started back running today after about a week off (I have had a cold). I am kind of wimpy this year about running in the wet cold. I guess it's been too long. I was dreading my run today even thinking of just doing a workout video at the house but I went and after about a half block and the start of a good song I was enjoying it. So I must remember that- just do it! It's amazing what a high you get from fresh air and running:)
I am getting headaches about daily. I think they started after the kids were born maybe after Andrew .. I don't know. Not good. It seems they are worse lately. I had a really bad one tonight, so bad I laid on the couch. Andrew said, "What are you doing?" I never do that. I have found I have turned into my mother- go, go, go. I am always running around. I told the kids I had a headache and then Abby whispered "Andrew c'mon let's go make something for Mom" They ran off and then brought me letters. Abby had scribbled "ABI" on a few pieces of paper. They also brought me a present (a necklace of mine wrapped in about 10 Kleenexes). My sweeties. Moments like these I am filled with joy and gratitude I have them- these little people that love me so much.
Thanksgiving..
The kids made thankful baskets at MECCA earlier this month. Here is what Abby said she was thankful for:
Grammie and Grandpa, play, Lindsay,Pa, Peyton, Steve , Brandy, Pretty dresses, Nana, Bella and Collette, John Paul, Toys R US, Thomas, Sophie, Cadence, Aunt Andrea
Abby's basket:
Andrew's basket included leaves that said: cookies, Uncle Christopher
On Thanksgiving day, Abby said she was thankful for me and Kyle:) Made my day:) We had a really nice intimate Thanksgiving at our home for the first time! It was fun to be at home for the holiday. Kyle's parents came to celebrate with us. The meal was delicious! My mother in law is an incredible cook. I am looking forward to getting her recipes.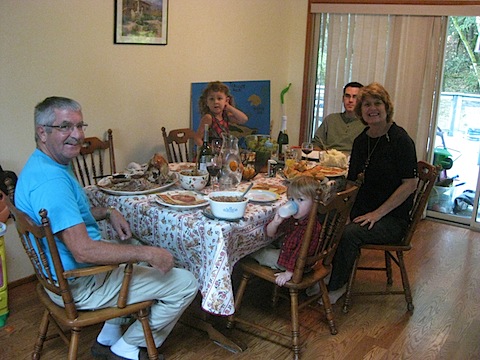 Weekend…
Kyle was off Wednesday through Sunday, so nice! We had a wonderful time. Saturday we went to his holiday work party- they had a tailgate before the game- gorgeous weather. Then we went home, Andrew took a long nap, I cooked turkey soup, Kyle watched the game. Everybody was happy. Abby helped cook of course… always! Then we hiked to my parents and soaked up the beautiful dry day. We made it in 40 minutes with the kids, we are getting faster, I remember last time it took an hour. I got to see my siblings who were in town. Sunday we cleaned house, went to Sweet Life as a family after nap. Then we decorated the tree and the house and had a fun evening- turkey soup, hot cider. Monday we all had to hop back into reality:)